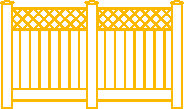 Low Maintenance Required
Standard Colors – Simulated Stone & Wood Grain
Vinyl fence and gates are a material and style we offer that allows for the least amount of maintenance and upkeep throughout its lifetime. During Vinyl PVC Fence Gates material production, a UV protective chemical is added to give your fence longevity. Despite being in the environment for years or decades, vinyl fencing requires simplified cleaning with a scrub brush and hose. Vinyl comes in a variety of colors including but not limited to, white, tan, and mocha colors. In addition to standard colors and traditional look, vinyl fences and gates also have simulation options of stonework or wood grain, in various colors. Ask our sales agents for more details about these amazing systems.
Regarding installation, we believe in taking a few extra steps when installing your fence. We always utilize 80 lbs. of concrete in every post hole to maintain aesthetics but more importantly the lifetime of your fence. Our warehouse custom makes all gates and when installed a metal insert is added to the gate post to maintain stability over the years. We guarantee our work and offer a limited lifetime manufacturer's warranty on all material and a 1-year company warranty on all installs with the ability to increase the warranty by allowing us to put a small Gator sign on the Vinyl PVC Fence Gates.
Vinyl/PVC Fence & Gates
Vinyl/PVC fence & gates give a charming look to any garden, PVC fence also operates as a privacy fence it depends on the selection of your vinyl fence style. PVC fence and gates require little maintenance, that's why homeowners feel easy to buy vinyl fence gates.
A vinyl fence gate is an option for those people who are searching for charming boundaries with little maintenance. We prefer a vinyl fence over the wood fence as PVC fencing is more elegant and durable.
Why We Recommend Our PVC Fence Gate
Our vinyl fencing is unique and best for the following attributes:
Durability
Low Maintenance
Affordable
Variety of style and colors
Vinyl/PVC Fence & Gates Supply and Installation
If you are searching for an expert and reliable vinyl fencing & gate company then you are at the perfect place. We provide you variety of colors, designs, extremely durable and low maintenance vinyl/fence & gates installation services.
Our Available Styles Include:
Privacy Fence Style
Picket Fence Style
Ornamental Fence Style
Rail Fence Style
Why You Choose Us
Our innovative superior vinyl/PVC fence & gates are the unique style of fencing in the market. We introduce this unique style of fencing because we can understand the irritation you feel during fence repair. So, that we introduce this innovative fence it decreased assurance claims and giving our clients extra peace of mind.
Our Promise to You
We are well known because of our good reputation in our Vinyl/Pvc fence & gates building project. It is all due to the hard work of our team and client service from initial contact until 100 percent satisfaction of the client.
Our goal is to provide our clients with high-quality vinyl/PVC fence & gates, to accomplish our goal we hire an experienced and professional team that has good working experience with Pvc fencing and gates. However, our installation team never compromises for quality and you can expect efficient vinyl fence gate installation.